What does the word 'holy' means? It means to be set apart; holy, sacred, clean, morally pure. The Hebrew word 'qudosh'(kah-dosh) means to "set apart something or someone for holy purposes." Holiness is separation from everything profane and defiling and at the same time it is dedication to everything holy and pure.

Being holy consists of two principles: 1) to be separate from anything that could defile us and 2) to be set apart for God's holy purposes that are to be lived out through our lives. The verse quoted above is not a threat but a command that as God is holy, set apart, so we are to be set apart from anything that defiles us. Sin, and the stain of the world deflies us.

God is saying to us that He lives in a higher and purer realm and He is calling us to live with Him on that "higher ground." To be holy is to be pure, free from sin and the stain of the world.*

*(Paraphrased from the Spirit Filled Life Bible for Students, NKJV)

I had a conversation with my son today. He said Aaron, a little boy, was grounded by his parents for a long time. I asked why. He said he didn't know why. I said either Aaron must have done something really bad or his parents do not know how much is too much. I said when disiplining children the punishment must fit the crime. However, many parents, myself included sometimes go too far.

Then my son made an observation. He said the punishment for sin is death. Is that fair? I said, "That is a very good question." I said, "You see, God is Holy and when we sin against God the only punishment fitting that crime is death." God Himself said that the wages of sin is death and the soul that sins shall die.

God is Holy! A Holy God must judge sin. If He doesn't then He is not Holy and He is not just.

"For the wages of sin is death, but the gift of God is eternal life in Christ Jesus our Lord." Rom. 6:23.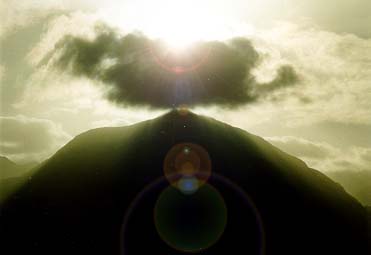 Mountain
I dwell in the high and holy place. Is.57:15